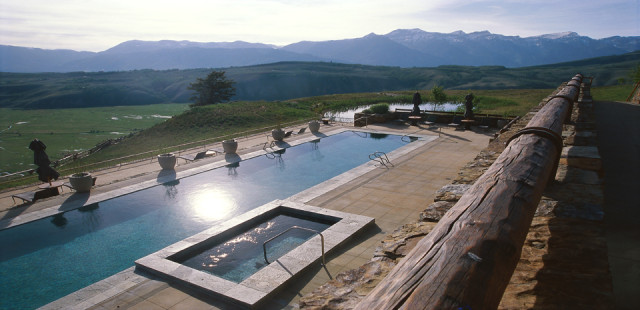 Amangani Resort in Jackson Hole, Wyoming, an exclusive member of The Haute Hotel Network, is the perfect place to vacation this spring. The peaceful and well-known ski resort features many amenities for those who wish to stay in and have a relaxing vacation.
Dining: Amangani Resort has a 65-set dining room with beautiful views of Jackson Hole's mountains. Guests can visit the Grill for breakfast, lunch and dinner, and enjoy local sustainable meats, fresh fish and seasonal farm-to-table produce. Guests are also able to ask for picnic lunches to be prepared with advance notice.
Lounge: With soaring redwood ceilings and wood-burning fireplaces, the lounge is the best place for casual afternoon and evening dining.
Library: The library, which overlooks Jason Hole's mountains, contains a collection of books, CDs, DVDs and games all available to guests.
The takoda room: A relaxing venue, this is the place to host events, meetings and private dinners.
Gallery: The Gallery contains art, antiques, crafts, jewelry, pottery and paintings from the Jackson Hole area. Guests can purchase coffee-table books, clothing and the resort's spa products here.
Spa and fitness centre: Guests have access to the resort's exercise studios, treatment rooms, and steam rooms. There are also individualized yoga programs, which can be requested upon visit.
Swimming pool and whirlpool: The resort has a 35-meter heated outdoor swimming pool with a 10.5-square-meter whirlpool. The pool deck is the ideal place for guests to enjoy the magnificent view of the mountains and the sunset.
If you are looking for a relaxing place to vacation this spring, Amangani Resort is the place to be!