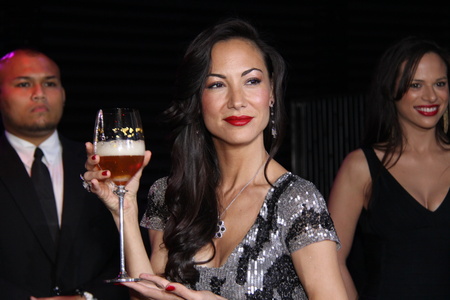 Image: Copyright © MediaCorp Press Ltd
Luxury jeweler Mouawad and Singapore's local club Pangaea recently unveiled Asia's most expensive cocktail during an exclusive showcase at Marina Bay Sands.
Called "The Jewel of Pangaea", the cocktail costs $32,000 per glass and was created for clientele who enjoy the art of cocktail mixing. Award-winning master mixologist Ethan Leslie Leong created the cocktail, which is infused with gold-flecked Hennessey brandy, a hickory smoke-infused sugar cube, 1985 vintage Krug champagne and garnished with a Mouawad Triple X 1-carat diamond.
According to Leong, it took six months to research the ingredients and perfect the final mix.
"The Jewel of Pangaea was custom-designed to actually taste great. Most of the expensive cocktails around the world simply throw a precious diamond into a martini, but in this case I wanted to use the most premium products available, and ones that would perfectly complement the stunning Mouawad 1-carat diamond," said Leong.
Leong has more than 18 years of experience in the industry and is known for his work as director of bar operations at the Maison Ikkoku cocktail bar on Kandahar Street.
Sabrina Ault, owner and creative director of Pangaea said, "The Jewel of Pangaea is not just a drink, it's an experience – the spirit of Pangaea in a glass." At Friday's event, Leong prepared the drink for the first time and presented it to Ault.
Subscribe to discover the best kept secrets in your city